Welcome to Veronika's Bakery
Veronika's is a home bakery based in Tonbridge. All my cakes are made with love and utmost care for my customers, with the aim to brighten their day.
Looking for cakes in Tonbridge or Sevenoaks
Growing up with two amazing bakers in the family, my wonderful grandmothers, nurtured my passion for baking. Travelling to different countries and living in a multicultural country like Great Britain brought vibrant flavours to my cakes.
Veronika's is a home bakery. All my cakes are made with love and utmost care for my customers, with the aim to brighten their day.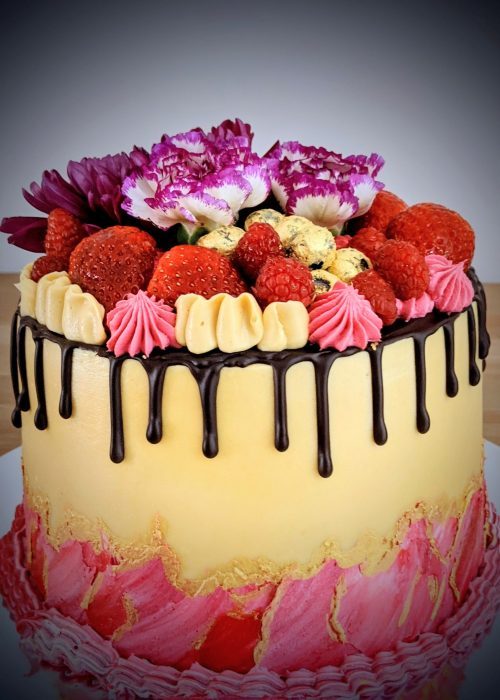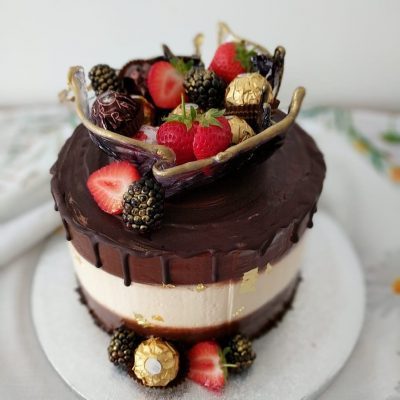 My focus is to serve my customers tasty and freshly made cakes. Therefore, I use only high-quality ingredients to produce truly delicious cakes. My cakes are light, fresh and with the right amount of sweetness so you do not have to feel guilty for having a piece or two.
If you would like to have a delicious, home-baked cake, delivered to your door step straight from my oven, please give Veronika's Bakery a try.
Our bakery is based in Tonbridge. We also deliver cakes to Royal Tunbridge Wells as well as Sevenoaks.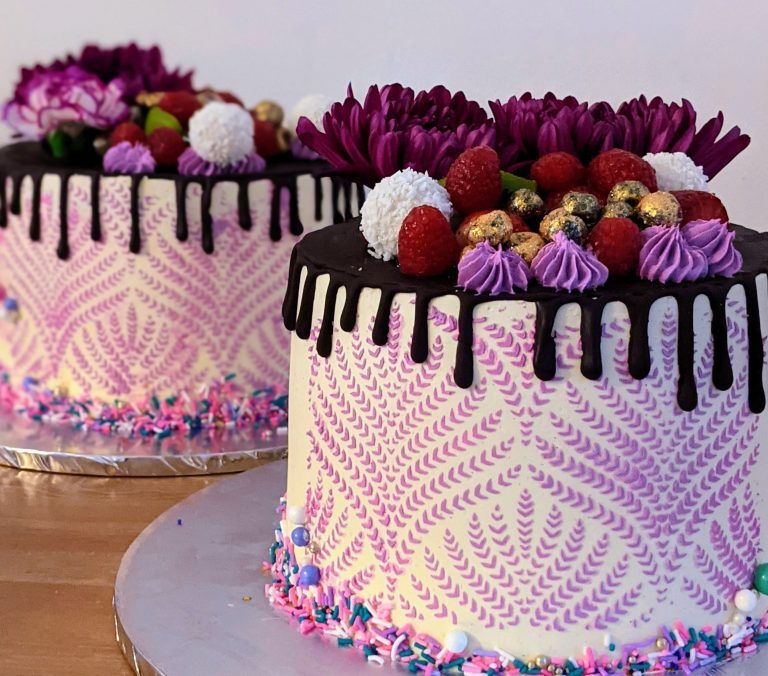 If you are looking for a cake for the special occasion, have a look at the cakes in the gallery for inspiration.

Sweet pieces on plate
These are wonderful deserts when expecting guests. They are always such a crowd pleaser.

Tortes
When you want to surprise your friend or loved ones or you just feel like you want something special after Sunday lunch.
Veronika's cake was AMAZING! It was light, fluffy and beautiful. I ordered it for a family occasion and was really please with the great service and quick turn around Veronika gave me. I will definitely order again and highly recommend her!

MARTA BEACOM


7/14/2020

Veronika made a delicious cake for my baby shower - it looked absolutely amazing and tasted even better! We would definitely recommend her cakes for any celebration!

Rachel Hunter


6/21/2020

Veronika of Veronika's Bakery is a baking genius. Everything about the customer experience screams world class. She is passionate about cake making and her cakes are out of this world delicious. The flavors, texture, look and taste are great. I highly recommend Veronika for your next cake order for an extra special experience. Prepare to eat one of the most delicious cakes you ever tasted.

Michael Calamito


12/15/2020

What can I say other than AMAZING!! From start to finish! Deciding on the filling and the design of the cake and then eating it! 😀 Every time i see the cake in the box I am amazed. It looks incredible and tastes sensational. This is not the first time I have ordered Veronika's cake. Such a lovely lady and she answers any questions you have. The final cakes she made (strawberry gateaux & carrot cake with chocolate ganache & topping) for my husbands 40th Birthday occasions looked amazing perfectly presented on a cake stand inside a box and tasted delicious. It had a huge wow effect when we brought it into the room together with the lit candles, just wonderful and it tasted delicious! Thank you so much Veronika. Hopefully not long until I can order again 🧁 🌟

susanna fabry


3/18/2020

Veronika made a cake for my little one's 3rd birthday and she absolutely exceeded our expectations! It was beautiful, bright and so tasty! The cake was paw patrol (Skye) themed and Veronika thought of every little detail including making little clouds, hot air balloons and it looked just perfect! Veronika delivered the cake in time for the party and was an absolute pleasure to deal with and communicated very clearly. Thank you so much! We will definitely use Veronika again and recommend her to our friends ❤ 🎂

Anna Hetherington


6/27/2021

Veronika's cakes are delicious. I have had the chance to try several of her cakes already and have a really hard time deciding which was my favourite, since they're all so good. Most recently Veronika made a beautiful Valentine's cake for me (see picture below) and considered any special wishes I had. If you want something a little less sweet than cakes, her sweet bread is to die for - sooo yummy. Veronika really caters for all tastes and also make cupcakes etc to order, so perfect for kids birthday parties as well.

Dany Grade


3/20/2019
These cakes are for a special occasion. Either when you want to surprise your friend or loved ones or you just feel like you want something special after Sunday lunch.
Please leave me an enquiry using the boxes below and I will get back to you as soon as I can.